He opened the lid and took out a small object most carefully wrapped in some fine Eastern silk. This he unfolded, and disclosed a delicate little saucer of the most beautiful deep-blue colour.
"It needs careful handling, Watson. This is the real egg-shell pottery of the Ming dynasty. No finer piece ever passed through Christie's. A complete set of this would be worth a king's ransom–in fact, it is doubtful if there is a complete set outside the imperial palace of Peking. The sight of this would drive a real connoisseur wild."
"What am I to do with it?"
Holmes handed me a card upon which was printed: "Dr. Hill Barton, 369 Half Moon Street."
"That is your name for the evening, Watson. You will call upon Baron Gruner. I know something of his habits, and at half-past eight he would probably be disengaged. A note will tell him in advance that you are about to call, and you will say that you are bringing him a specimen of an absolutely unique set of Ming china. You may as well be a medical man, since that is a part which you can play without duplicity. You are a collector this set has come your way, you have heard of the Baron's interest in the subject, and you are not averse to selling at a price."
"What price?"
"Well asked, Watson. You would certainly fall down badly if you did not know the value of your own wares. This saucer was got for me by Sir James, and comes, I understand, from the collection of his client. You will not exaggerate if you say that it could hardly be matched in the world."
"I could perhaps suggest that the set should be valued by an expert."
"Excellent, Watson! You scintillate to-day. Suggest Christie or Sotheby. Your delicacy prevents your putting a price for yourself."
"But if he won't see me?"
"Oh, yes, he will see you. He has the collection mania in its most acute form–and especially on this subject, on which he is an acknowledged authority. Sit down, Watson, and I will dictate the letter. No answer needed. You will merely say that you are coming, and why."
It was an admirable document, short, courteous, and stimulating to the curiosity of the connoisseur. A district messenger was duly dispatched with it. On the same evening, with the precious saucer in my hand and the card of Dr. Hill Barton in my pocket, I set off on my own adventure.
The beautiful house and grounds indicated that Baron Gruner was, as Sir James had said, a man of considerable wealth. A long winding drive, with banks of rare shrubs on either side, opened out into a great gravelled square adorned with statues. The place had been built by a South African gold king in the days of the great boom, and the long, low house with the turrets at the corners, though an architectural nightmare, was imposing in its size and solidity. A butler, who would have adorned a bench of bishops, showed me in and handed me over to a plush-clad footman, who ushered me into the Baron's presence.
He was standing at the open front of a great case which stood between the windows and which contained part of his Chinese collection. He turned as I entered with a small brown vase in his hand.
"Pray sit down, Doctor," said he. "I was looking over my own treasures and wondering whether I could really afford to add to them. This little Tang specimen, which dates from the seventh century, would probably interest you. I am sure you never saw finer workmanship or a richer glaze. Have you the Ming saucer with you of which you spoke?"
I carefully unpacked it and handed it to him. He seated himself at his desk, pulled over the lamp, for it was growing dark, and set himself to examine it. As he did so the yellow light beat upon his own features, and I was able to study them at my ease.
He was certainly a remarkably handsome man. His European reputation for beauty was fully deserved. In figure he was not more than of middle size, but was built upon graceful and active lines. His face was swarthy, almost Oriental, with large, dark, languorous eyes which might easily hold an irresistible fascination for women. His hair and moustache were raven black, the latter short, pointed, and carefully waxed. His features were regular and pleasing, save only his straight, thin-lipped mouth. If ever I saw a murderer's mouth it was there–a cruel, hard gash in the face, compressed, inexorable, and terrible. He was ill-advised to train his moustache away from it, for it was Nature's danger-signal, set as a warning to his victims. His voice was engaging and his manners perfect. In age I should have put him at little over thirty, though his record afterwards showed that he was forty-two.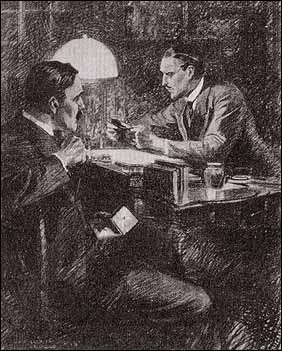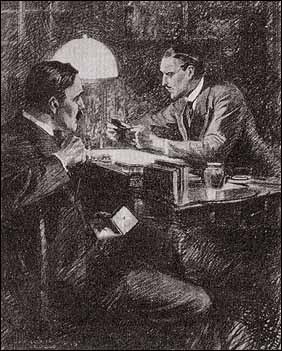 "Very fine–very fine indeed!" he said at last. "And you say you have a set of six to correspond. What puzzles me is that I should not have heard of such magnificent specimens. I only know of one in England to match this, and it is certainly not likely to be in the market. Would it be indiscreet if I were to ask you, Dr. Hill Barton, how you obtained this?"
"Does it really matter?" I asked with as careless an air as I could muster.
"You can see that the piece is genuine, and, as to the value, I am content to take an expert's valuation."