"We are hunting together, Mr. Holmes, and our trail lay in this direction." He turned his bulldog eyes upon our visitor. "Are you Mr. John Scott Eccles, of Popham House, Lee?"
"I am."
"We have been following you about all the morning."
"You traced him through the telegram, no doubt," said Holmes.
"Exactly, Mr. Holmes. We picked up the scent at Charing Cross Post-Office and came on here."
"But why do you follow me? What do you want?"
"We wish a statement, Mr. Scott Eccles, as to the events which led up to the death last night of Mr. Aloysius Garcia, of Wisteria Lodge, near Esher."
Our client had sat up with staring eyes and every tinge of colour struck from his astonished face.
"Dead? Did you say he was dead?"
"Yes, sir, he is dead."
"But how? An accident?"
"Murder, if ever there was one upon earth."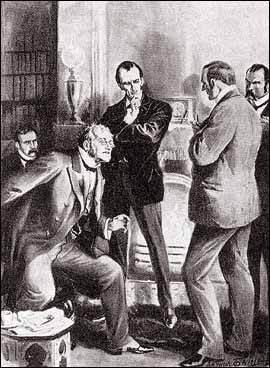 "Good God! This is awful! You don't mean–you don't mean that I am suspected?"
"A letter of yours was found in the dead man's pocket, and we know by it that you had planned to pass last night at his house."
"So I did."
"Oh, you did, did you?"
Out came the official notebook.
"Wait a bit, Gregson," said Sherlock Holmes. "All you desire is a plain statement, is it not?"
"And it is my duty to warn Mr. Scott Eccles that it may be used against him."
"Mr. Eccles was going to tell us about it when you entered the room. I think, Watson, a brandy and soda would do him no harm. Now, sir, I suggest that you take no notice of this addition to your audience, and that you proceed with your narrative exactly as you would have done had you never been interrupted."
Our visitor had gulped off the brandy and the colour had returned to his face. With a dubious glance at the inspector's notebook, he plunged at once into his extraordinary statement.
"I am a bachelor," said he, "and being of a sociable turn I cultivate a large number of friends. Among these are the family of a retired brewer called Melville, living at Abermarle Mansion, Kensington. It was at his table that I met some weeks ago a young fellow named Garcia. He was, I understood, of Spanish descent and connected in some way with the embassy. He spoke perfect English, was pleasing in his manners, and as good-looking a man as ever I saw in my life.
"In some way we struck up quite a friendship, this young fellow and I. He seemed to take a fancy to me from the first, and within two days of our meeting he came to see me at Lee. One thing led to another, and it ended in his inviting me out to spend a few days at his house, Wisteria Lodge, between Esher and Oxshott. Yesterday evening I went to Esher to fulfil this engagement.
"He had described his household to me before I went there. He lived with a faithful servant, a countryman of his own, who looked after all his needs. This fellow could speak English and did his housekeeping for him. Then there was a wonderful cook, he said, a half-breed whom he had picked up in his travels, who could serve an excellent dinner. I remember that he remarked what a queer household it was to find in the heart of Surrey, and that I agreed with him, though it has proved a good deal queerer than I thought.
"I drove to the place–about two miles on the south side of Esher. The house was a fair-sized one, standing back from the road, with a curving drive which was banked with high evergreen shrubs. It was an old, tumbledown building in a crazy state of disrepair. When the trap pulled up on the grass-grown drive in front of the blotched and weather-stained door, I had doubts as to my wisdom in visiting a man whom I knew so slightly. He opened the door himself, however, and greeted me with a great show of cordiality. I was handed over to the manservant, a melancholy, swarthy individual, who led the way, my bag in his hand, to my bedroom. The whole place was depressing. Our dinner was tete-a-tete, and though my host did his best to be entertaining, his thoughts seemed to continually wander, and he talked so vaguely and wildly that I could hardly understand him. He continually drummed his fingers on the table, gnawed his nails, and gave other signs of nervous impatience. The dinner itself was neither well served nor well cooked, and the gloomy presence of the taciturn servant did not help to enliven us. I can assure you that many times in the course of the evening I wished that I could invent some excuse which would take me back to Lee.
"One thing comes back to my memory which may have a bearing upon the business that you two gentlemen are investigating. I thought nothing of it at the time. Near the end of dinner a note was handed in by the servant. I noticed that after my host had read it he seemed even more distrait and strange than before. He gave up all pretence at conversation and sat, smoking endless cigarettes, lost in his own thoughts, but he made no remark as to the contents. About eleven I was glad to go to bed. Some time later Garcia looked in at my door–the room was dark at the time–and asked me if I had rung. I said that I had not. He apologized for having disturbed me so late, saying that it was nearly one o'clock. I dropped off after this and slept soundly all night.