"That also I have been able to discover. Miss Marie Devine was the maid of Lady Frances Carfax. Why she should have paid her this check we have not yet determined. I have no doubt, however, that your researches will soon clear the matter up."
"MY researches!"
"Hence the health-giving expedition to Lausanne. You know that I cannot possibly leave London while old Abrahams is in such mortal terror of his life. Besides, on general principles it is best that I should not leave the country. Scotland Yard feels lonely without me, and it causes an unhealthy excitement among the criminal classes. Go, then, my dear Watson, and if my humble counsel can ever be valued at so extravagant a rate as two pence a word, it waits your disposal night and day at the end of the Continental wire."
Two days later found me at the Hotel National at Lausanne, where I received every courtesy at the hands of M. Moser, the well-known manager. Lady Frances, as he informed me, had stayed there for several weeks. She had been much liked by all who met her. Her age was not more than forty. She was still handsome and bore every sign of having in her youth been a very lovely woman. M. Moser knew nothing of any valuable jewellery, but it had been remarked by the servants that the heavy trunk in the lady's bedroom was always scrupulously locked. Marie Devine, the maid, was as popular as her mistress. She was actually engaged to one of the head waiters in the hotel, and there was no difficulty in getting her address. It was 11 Rue de Trajan, Montpellier. All this I jotted down and felt that Holmes himself could not have been more adroit in collecting his facts.
Only one corner still remained in the shadow. No light which I possessed could clear up the cause for the lady's sudden departure. She was very happy at Lausanne. There was every reason to believe that she intended to remain for the season in her luxurious rooms overlooking the lake. And yet she had left at a single day's notice, which involved her in the useless payment of a week's rent. Only Jules Vibart, the lover of the maid, had any suggestion to offer. He connected the sudden departure with the visit to the hotel a day or two before of a tall, dark, bearded man. "Un sauvage–un veritable sauvage!" cried Jules Vibart. The man had rooms somewhere in the town. He had been seen talking earnestly to Madame on the promenade by the lake. Then he had called. She had refused to see him. He was English, but of his name there was no record. Madame had left the place immediately afterwards. Jules Vibart, and, what was of more importance, Jules Vibart's sweetheart, thought that this call and the departure were cause and effect. Only one thing Jules would not discuss. That was the reason why Marie had left her mistress. Of that he could or would say nothing. If I wished to know, I must go to Montpellier and ask her.
So ended the first chapter of my inquiry. The second was devoted to the place which Lady Frances Carfax had sought when she left Lausanne. Concerning this there had been some secrecy, which confirmed the idea that she had gone with the intention of throwing someone off her track. Otherwise why should not her luggage have been openly labelled for Baden? Both she and it reached the Rhenish spa by some circuitous route. This much I gathered from the manager of Cook's local office. So to Baden I went, after dispatching to Holmes an account of all my proceedings and receiving in reply a telegram of half-humorous commendation.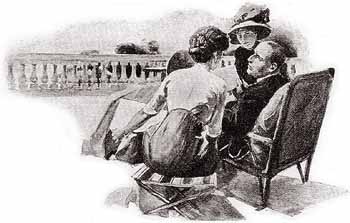 At Baden the track was not difficult to follow. Lady Frances had stayed at the Englischer Hof for a fortnight. While there she had made the acquaintance of a Dr. Shlessinger and his wife, a missionary from South America. Like most lonely ladies, Lady Frances found her comfort and occupation in religion. Dr. Shlessinger's remarkable personality, his whole hearted devotion, and the fact that he was recovering from a disease contracted in the exercise of his apostolic duties affected her deeply. She had helped Mrs. Shlessinger in the nursing of the convalescent saint. He spent his day, as the manager described it to me, upon a lounge-chair on the veranda, with an attendant lady upon either side of him. He was preparing a map of the Holy Land, with special reference to the kingdom of the Midianites, upon which he was writing a monograph. Finally, having improved much in health, he and his wife had returned to London, and Lady Frances had started thither in their company. This was just three weeks before, and the manager had heard nothing since. As to the maid, Marie, she had gone off some days beforehand in floods of tears, after informing the other maids that she was leaving service forever. Dr. Shlessinger had paid the bill of the whole party before his departure.
"By the way," said the landlord in conclusion, "you are not the only friend of Lady Frances Carfax who is inquiring after her just now. Only a week or so ago we had a man here upon the same errand."
"Did he give a name?" I asked.
"None; but he was an Englishman, though of an unusual type."
"A savage?" said I, linking my facts after the fashion of my illustrious friend.
"Exactly. That describes him very well. He is a bulky, bearded, sunburned fellow, who looks as if he would be more at home in a farmers' inn than in a fashionable hotel. A hard, fierce man, I should think, and one whom I should be sorry to offend."
Already the mystery began to define itself, as figures grow clearer with the lifting of a fog. Here was this good and pious lady pursued from place to place by a sinister and unrelenting figure. She feared him, or she would not have fled from Lausanne. He had still followed. Sooner or later he would overtake her. Had he already overtaken her? Was THAT the secret of her continued silence? Could the good people who were her companions not screen her from his violence or his blackmail? What horrible purpose, what deep design, lay behind this long pursuit? There was the problem which I had to solve.
To Holmes I wrote showing how rapidly and surely I had got down to the roots of the matter. In reply I had a telegram asking for a description of Dr. Shlessinger's left ear. Holmes's ideas of humour are strange and occasionally offensive, so I took no notice of his ill-timed jest–indeed, I had already reached Montpellier in my pursuit of the maid, Marie, before his message came.