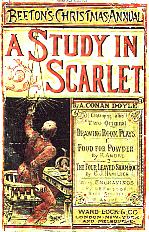 A Study in Scarlet, was published in 1887 in Beeton's Christmas Annual.
This was the first novel about Sherlock Holmes. The novel was written in three weeks by Sir Arthur Conan Doyle in 1886.
It introduced the detective and his associate and friend, Dr. Watson, and made famous Holmes's address at Mrs. Hudson's house, 221B Baker Street, London.
Their major opponent was the malevolent Moriarty, the classic evil genius who was a kind of doppelgänger of Holmes. The beautiful opera singer Irene Adler also caused much trouble to Holmes.