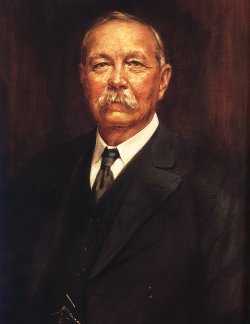 Oil painting of
Sir Arthur Conan Doyle
Sir Arthur Conan Doyle is the creator Sherlock Holmes, the best-known detective in literature and the embodiment of scientific thinking. Doyle himself was not a good example of rational personality: he believed in fairies and was interested in occultism. Sherlock Holmes stories have been translated into more than fifty languages, and made into plays, films, radio and television series, a musical comedy, a ballet, cartoons, comic books, and advertisement. By 1920 Doyle was one of the most highly paid writers in the world.
Doyle was born on May 22, 1859 at Picardy Place, Edinburgh, as the son of Charles Altamont Doyle, a civil servant in the Edinburgh Office of Works, and Mary (Foley) Doyle. Both of Doyle's parents were Roman Catholics. His father suffered from epilepsy and alcoholism and was eventually institutionalized. Charles Altamont died in an asylum in 1893. In the same year Doyle decided to finish permanently the adventures of his master detective. Because of financial problems, Doyle's mother kept a boarding house. Dr. Tsukasa Kobayashi has suspected in an article, that Doyle's mother had a long affair with Bryan Charles Waller, a lodger and a student of pathology, who had a deep impact to Conan Doyle.
Doyle was educated in Jesuit schools. He studied at Edinburgh University and in 1884 he married Louise Hawkins. Doyle qualified as doctor in 1885. After graduation Doyle practiced medicine as an eye specialist at Southsea near Porsmouth in Hampshire until 1891 when he became a full time writer.
First story about Holmes, A STUDY IN SCARLET, was published in 1887 in 'Beeton Christmas Annual.'. The novel was written in three weeks in 1886. It introduced the detective and his associate and friend, Dr. Watson, and made famous Holmes's address at Mrs. Hudson's house, 221B Baker Street, London. Their major opponent was the malevolent Moriarty, the classic evil genius who was a kind of doppelgänger of Holmes. Also the beautiful opera singer Irene Adler caused much trouble to Holmes.
The second Sherlock Holmes story, THE SIGN OF FOUR, was written for the Lippincott's Magazine in 1890. The story collects a colorful group of people together, among them Jonathan Small who has a wooden leg and a dwarf from Tonga islands. In the Strand Magazine started to appear 'The Adventures of Sherlock Holmes.'
In 1893 Doyle was so wearied of his famous detective that he devised his death in the Final Problem (published in the Strand). In the story Holmes meets Moriarty at the fall of the Reichenbach in Switzerland and disappears. Watson finds a letter from Homes, stating "I have already explained to you, however, that my career had in any case reached its crisis, and that no possible conclusion to it could be more congenial to me than this."
In THE HOUND OF BASKERVILLES (1902) Doyle narrated an early case of the dead detective. The murder weapon in the story is an animal.
He was knighted ("Sir Arthur") in 1902 for his work in Boer War propaganda (particularly the pamphlet The War in South Africa: Its Cause and Conduct) -- and, some said, because of the publication of THE HOUND OF BASKERVILLES.
Owing to public demand Doyle resurrected his popular hero in The Empty House (1903).
"I moved my head to look at the cabinet behind me. When I turned again Sherlock Holmes was standing smiling at me across my study table. I rose to my feet, stared at him for some seconds in utter amazement, and then it appears that I must have fainted for the first and last time in my life."

---(from 'The Empty House')
In these later stories Holmes stops using cocaine. Sherlock Holmes short stories were collected in five books. They first appeared in 1892 under the title THE ADVENTURES OF SHERLOCK HOLMES. The later were THE MEMOIRS OF SHERLOCK HOLMES (1894), THE RETURN OF SHERLOCK HOLMES (1904), HIS LAST BOW (1917), and THE CASEBOOK OF SHERLOCK HOLMES (1927).
During the South African war (1899-1902) Doyle served for a few months as senior physician at a field hospital, and wrote THE WAR IN SOUTH AFRICA, in which he took the imperialistic view. In 1900 and 1906 he ran unsuccessfully for Parliament. Doyle was knighted in 1902. Fourteen months after his wife died, Conan Doyle married in 1907 his second wife, Jean Leckie. He dedicated himself in spiritualistic studies after the death of his son Kingsley from wounds incurred in World War I. An example of these is THE COMING OF FAIRIES, in which he supported the existence of "little people" and spent more than a million dollars on their cause. He also became president of several important spiritualist organizations.
Conan Doyle's other publications include plays, verse, memoirs, short stories, and several historical novels and supernatural and speculative fiction. His stories of Professor George Edward Challenger in THE LOST WORLD and other adventures blended science fact with fantastic romance, and were very popular. The model for the professor was William Rutherford, Doyle's teacher from Edinburgh. Doyle's practice, and other experiences, seven months in the Arctic as ship's doctor on a whaler, and three on a steamer bound to the West Coast of Africa, provided material for his writings.
Doyle died on July 7, 1930 from heart disease at his home, Windlesham, Sussex.
"My contention is that Sherlock Holmes is literature on a humble but not ignoble level, whereas the mystery writers most in vogue now are not. The old stories are literature, not because of the conjuring tricks and the puzzles, not because of the lively melodrama, which they have in common with many other detective stories, but the virtue of imagination and style. They are fairy-tales, as Conan Doyle intimated in his preface to his last collection, and they are among the most amusing of fairy-tales and not among the least distinguished."

---(Edmund Wilson in Classics and Commercials, 1950)
Selected works:
A STUDY IN SCARLET, 1887

THE MYSTERY OF CLOOMBER, 1889

MICAH CLARCE, 1889

THE FIRM OF GIRDLESTONE, 1889

THE CAPTAIN OF THE POLESTAR AND OTHER TALES, 1890

THE SIGN OF FOUR, 1890

THE WHITE COMPANY, 1891

THE DOINGS OF RAFLES HAW, 1891

BEYOND THE CITY, 1892

THE REFUGEES, 1893

JANE ANNIE, 1893 (with J.M. Barrie)

MYSTERIES AND ADVENTURES, 1893

THE GREAT SHADOW, 1893

THE PARASITE, 1894

MY FRIEND THE MURDERER, 1894

ROUND THE RED LAMP, 1894

THE SURGEON OF GASTER FELL, 1895

THE STARK MUNRO LETTERS, 1895

RODNEY STONE, 1896

UNCLE BERNAC, 1896

THE EXPLOITS OF BRIGADIER GERALD, 1896

THE TRAGEDY OF THE KOROSKO, 1898

SONGS OF ACTION, 1898

A DUET: WITH AN OCCASIONAL CHORUS, 1899

THE MAN FROM ARCHANGEL, 1899

THE GREEN FLAG, 1900

THE GREAT BOER WAR, 1900

THE WAR IN SOUTH AFRICA: ITS CAUSE AND CONDUCT, 1902

THE ADVENTURES OF GERALD, 1903

SIR NIGEL, 1906

BRIGADIER GERALD, 1906

THE STORY OF MR. GEORGE EDALJI, 1907

THROUGH THE MAGIC DOOR, 1907

WATERLOO, 1907 (with W. Gillette)

ROUND THE FIRE STORIES, 1908

THE CROXLEY MASTER, 1909

THE CRIME OF THE CONGO, 1909

THE LAST GALLEY, 1910

ONE CROWDED HOUR, 1911

SONGS OF THE ROAD, 1911

THE LOST WORLD, 1912

THE CASE OF OSCAR SLATER, 1912

THE SPECKLED BAND, 1912

THE POISON BELT, 1913

GREAT BRITAIN AND THE NEXT WAR, 1914

TO ARMS!, 1914

THE GERMAN WAR, 1914

WESTERN WANDERINGS, 1915

THE VALLEY OF FEAR, 1915

A VISIT TO THREE FRONTS, 1916

THE ORIGIN AND OUTBREAK OF THE WAR, 1916

HIS LAST BOW, 1917

DANGER! AND OTHER STORIES, 1918

THE DEALINGS OF CAPTAIN SHARKEY, 1918

THE NEW REVELATION, 1918

THE VITAL MESSAGE, 1919

OUR REPLY TO THE CLERIC, 1920

A PUBLIC DEBATE ON THE TRUTH OF SPIRITUALISM, 1920 (with Joseph McCabe)

THE GODS CAME THROUGH, 1920

SPIRITUALISM AND RATIONALISM, 1920

THE WANDERINGS OF A SPIRITUALIST, 1921

THE EVIDENCE FOR FAIRIES, 1921

FAIRIES PHOTOGRAPHED, 1921

OUR AMERICAN ADVENTURE, 1921

THE POEMS OF ARTHUR CONAN DOYLE, 1922

THE COMING OF THE FAIRIES, 1922 (with others)

THE CASE FOR SPIRIT PHOTOGRAPHY, 1922

OUR SECOND AMERICAN ADVENTURE, 1923

THE LAST OF THE LEGIONS AND OTHER TALES OF LONG AGO, 1923

THE THREE OF THEM, 1923

TALES OF TERROR AND MYSTERY, 1923

TALES OF THE RING AND CAMP, 1923

THROUGH THE MAGIC DOOR, 1923

TALES OF PIRATES AND BLUE WATERS, 1924

TALES OF ADVENTURE AND MEDICAL LIFE, 1924

TALES OF TWILIGHT AND THE UNSEEN, 1924

MEMORIES AND ADVENTURES, 1924

THE SPIRITUALISTS' READER, 1924

translation: THE MYSTERY OF JOAN OF ARC, 1924 (by D. Leon and J. Murray)

PSYCHIC EXPERIENCES, 1925

THE EARLY CHRISTIAN CHURCH AND MODERN SPIRITUALISM, 1925

TALES OF LONG AGO, 1925

IT'S TIME SOMETHING HAPPENED, 1925

EXILE, 1925

THE LAND OF THE MIST, 1926

THE HISTORY OF SPIRITUALISM, 1926 (2 vols.)

PHENEAS SPEAKS, 1927

THE COMPLETE SHERLOCK HOLMES, 1927

THE BRITISH CAMPAIGN IN FRANCE AND FLANDERS, 1928 (6 vols.)

WHAT DOES SPIRITUALISM ACTUALLY TEACH AND STAND FOR, 1929

THE MARACOT DEEP AND OTHER STORIES, 1929

THE CONAN DOYLE STORIES, 1929

AN OPEN LETTER TO THOSE OF MY GENERATION, 1929

OUR AFRICAN WINTER, 1929

THE ROMAN CATHOLIC CHURCH, 1929

WORKS, 1930 (24 vols.)

THE EDGE OF THE UNKNOWN, 1930

THE CONAN DOYLE HISTORICAL ROMANCES, 1931 (2 vols.)

COMPLETE PROFESSOR CHALLENGER STORIES, 1952

THE CROWN DIAMOND, 1958

STRANGE STUDIES FROM LIFE, 1963

THE ANNOTATED SHERLOCK HOLMES, 1967

ARTHUR CONAN DOYLE ON SHERLOCK HOLMES, 1981

UNCOLLECTED STORIES, 1982

ESSAYS ON PHOTOGRAPHY, 1982

LETTERS TO THE PRESS, 1986

THE SHERLOCK HOLMES LETTERS, 1986