I have missed you very much since your return to America, my dear Bertie, for you are the one man upon this earth to whom I have ever been able to unreservedly open my whole mind. I don't know why it is; for, now that I come to think of it, I have never enjoyed very much of your confidence in return. But that may be my fault. Perhaps you don't find me sympathetic, even though I have every wish to be. I can only say that I find you intensely so, and perhaps I presume too much upon the fact. But no, every instinct in my nature tells me that I don't bore you by my confidences.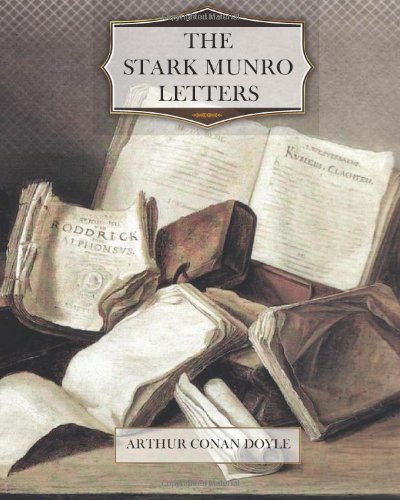 Can you remember Cullingworth at the University? You never were in the athletic set, and so it is possible that you don't. Anyway, I'll take it for granted that you don't, and explain it all from the beginning. I'm sure that you would know his photograph, however, for the reason that he was the ugliest and queerest-looking man of our year.
Physically he was a fine athlete—one of the fastest and most determined Rugby forwards that I have ever known, though he played so savage a game that he was never given his international cap. He was well-grown, five foot nine perhaps, with square shoulders, an arching chest, and a quick jerky way of walking. He had a round strong head, bristling with short wiry black hair. His face was wonderfully ugly, but it was the ugliness of character, which is as attractive as beauty. His jaw and eyebrows were scraggy and rough-hewn, his nose aggressive and red-shot, his eyes small and near set, light blue in colour, and capable of assuming a very genial and also an exceedingly vindictive expression. A slight wiry moustache covered his upper lip, and his teeth were yellow, strong, and overlapping. Add to this that he seldom wore collar or necktie, that his throat was the colour and texture of the bark of a Scotch fir, and that he had a voice and especially a laugh like a bull's bellow. Then you have some idea (if you can piece all these items in your mind) of the outward James Cullingworth.
But the inner man, after all, was what was most worth noting. I don't pretend to know what genius is. Carlyle's definition always seemed to me to be a very crisp and clear statement of what it is NOT. Far from its being an infinite capacity for taking pains, its leading characteristic, as far as I have ever been able to observe it, has been that it allows the possessor of it to attain results by a sort of instinct which other men could only reach by hard work. In this sense Cullingworth was the greatest genius that I have ever known. He never seemed to work, and yet he took the anatomy prize over the heads of all the ten-hour-a-day men. That might not count for much, for he was quite capable of idling ostentatiously all day and then reading desperately all night; but start a subject of your own for him, and then see his originality and strength. Talk about torpedoes, and he would catch up a pencil, and on the back of an old envelope from his pocket he would sketch out some novel contrivance for piercing a ship's netting and getting at her side, which might no doubt involve some technical impossibility, but which would at least be quite plausible and new. Then as he drew, his bristling eyebrows would contract, his small eyes would gleam with excitement, his lips would be pressed together, and he would end by banging on the paper with his open hand, and shouting in his exultation. You would think that his one mission in life was to invent torpedoes. But next instant, if you were to express surprise as to how it was that the Egyptian workmen elevated the stones to the top of the pyramids, out would come the pencil and envelope, and he would propound a scheme for doing that with equal energy and conviction. This ingenuity was joined to an extremely sanguine nature. As he paced up and down in his jerky quick-stepping fashion after one of these flights of invention, he would take out patents for it, receive you as his partner in the enterprise, have it adopted in every civilised country, see all conceivable applications of it, count up his probable royalties, sketch out the novel methods in which he would invest his gains, and finally retire with the most gigantic fortune that has ever been amassed. And you would be swept along by his words, and would be carried every foot of the way with him, so that it would come as quite a shock to you when you suddenly fell back to earth again, and found yourself trudging the city street a poor student, with Kirk's Physiology under your arm, and hardly the price of your luncheon in your pocket.
I read over what I have written, but I can see that I give you no real insight into the demoniac cleverness of Cullingworth. His views upon medicine were most revolutionary, but I daresay that if things fulfil their promise I may have a good deal to say about them in the sequel. With his brilliant and unusual gifts, his fine athletic record, his strange way of dressing (his hat on the back of his head and his throat bare), his thundering voice, and his ugly, powerful face, he had quite the most marked individuality of any man that I have ever known.
Now, you will think me rather prolix about this man; but, as it looks as if his life might become entwined with mine, it is a subject of immediate interest to me, and I am writing all this for the purpose of reviving my own half-faded impressions, as well as in the hope of amusing and interesting you. So I must just give you one or two other points which may make his character more clear to you.
He had a dash of the heroic in him. On one occasion he was placed in such a position that he must choose between compromising a lady, or springing out of a third-floor window. Without a moment's hesitation he hurled himself out of the window. As luck would have it, he fell through a large laurel bush on to a garden plot, which was soft with rain, and so escaped with a shaking and a bruising. If I have to say anything that gives a bad impression of the man, put that upon the other side.
He was fond of rough horse-play; but it was better to avoid it with him, for you could never tell what it might lead to. His temper was nothing less than infernal. I have seen him in the dissecting-rooms begin to skylark with a fellow, and then in an instant the fun would go out of his face, his little eyes would gleam with fury, and the two would be rolling, worrying each other like dogs, below the table. He would be dragged off, panting and speechless with fury, with his wiry hair bristling straight up like a fighting terrier's.
This pugnacious side of his character would be worthily used sometimes. I remember that an address which was being given to us by an eminent London specialist was much interrupted by a man in the front row, who amused himself by interjecting remarks. The lecturer appealed to his audience at last. "These interruptions are insufferable, gentlemen," said he; "will no one free me from this annoyance?" "Hold your tongue—you, sir, on the front bench," cried Cullingworth, in his bull's bellow. "Perhaps you'll make me," said the fellow, turning a contemptuous face over his shoulder. Cullingworth closed his note-book, and began to walk down on the tops of the desks to the delight of the three hundred spectators. It was fine to see the deliberate way in which he picked his way among the ink bottles. As he sprang down from the last bench on to the floor, his opponent struck him a smashing blow full in the face. Cullingworth got his bulldog grip on him, however, and rushed him backwards out of the class-room. What he did with him I don't know, but there was a noise like the delivery of a ton of coals; and the champion of law and order returned, with the sedate air of a man who had done his work. One of his eyes looked like an over-ripe damson, but we gave him three cheers as he made his way back to his seat. Then we went on with the dangers of Placenta Praevia.
He was not a man who drank hard, but a little drink would have a very great effect upon him. Then it was that the ideas would surge from his brain, each more fantastic and ingenious than the last. And if ever he did get beyond the borderland he would do the most amazing things. Sometimes it was the fighting instinct that would possess him, sometimes the preaching, and sometimes the comic, or they might come in succession, replacing each other so rapidly as to bewilder his companions. Intoxication brought all kinds of queer little peculiarities with it. One of them was that he could walk or run perfectly straight, but that there always came a time when he unconsciously returned upon his tracks and retraced his steps again. This had a strange effect sometimes, as in the instance which I am about to tell you.
Very sober to outward seeming, but in a frenzy within, he went down to the station one night, and, stooping to the pigeon-hole, he asked the ticket-clerk, in the suavest voice, whether he could tell him how far it was to London. The official put forward his face to reply when Cullingworth drove his fist through the little hole with the force of a piston. The clerk flew backwards off his stool, and his yell of pain and indignation brought some police and railway men to his assistance. They pursued Cullingworth; but he, as active and as fit as a greyhound, outraced them all, and vanished into the darkness, down the long, straight street. The pursuers had stopped, and were gathered in a knot talking the matter over, when, looking up, they saw, to their amazement, the man whom they were after, running at the top of his speed in their direction. His little peculiarity had asserted itself, you see, and he had unconsciously turned in his flight. They tripped him up, flung themselves upon him, and after a long and desperate struggle dragged him to the police station. He was charged before the magistrate next morning, but made such a brilliant speech from the dock in his own defence that he carried the Court with him, and escaped with a nominal fine. At his invitation, the witnesses and the police trooped after him to the nearest hotel, and the affair ended in universal whisky-and-sodas.
Well, now, if, after all these illustrations, I have failed to give you some notion of the man, able, magnetic, unscrupulous, interesting, many-sided, I must despair of ever doing so. I'll suppose, however, that I have not failed; and I will proceed to tell you, my most patient of confidants, something of my personal relations with Cullingworth.