The Lost World is a novel released in 1912 by Sir Arthur Conan Doyle concerning an expedition to a plateau in the Amazon basin of South America where prehistoric animals (dinosaurs and other extinct creatures) still survive. It was originally published serially in the popular Strand Magazine during the months of April 1912-November 1912. The character of Professor Challenger was introduced in this book. The novel also describes a war between Native Americans and a vicious tribe of ape-like creatures.
I have wrought my simple plan
If I give one hour of joy
To the boy who's half a man,
Or the man who's half a boy.
Foreword
Mr. E. D. Malone desires to state that both the injunction for restraint and the libel action have been withdrawn unreservedly by Professor G. E. Challenger, who, being satisfied that no criticism or comment in this book is meant in an offensive spirit, has guaranteed that he will place no impediment to its publication and circulation.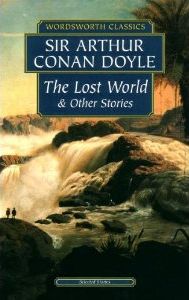 Table of Contents
Chapter 1 – THERE ARE HEROISMS ALL ROUND US
Chapter 2 – TRY YOUR LUCK WITH PROFESSOR CHALLENGER
Chapter 3 – HE IS A PERFECTLY IMPOSSIBLE PERSON
Chapter 4 – IT'S JUST THE VERY BIGGEST THING IN THE WORLD
Chapter 5 – QUESTION!
Chapter 6 – I WAS THE FLAIL OF THE LORD
Chapter 7 – TOMORROW WE DISAPPEAR INTO THE UNKNOWN
Chapter 8 – THE OUTLYING PICKETS OF THE NEW WORLD
Chapter 9 – WHO COULD HAVE FORESEEN IT?
Chapter 10 – THE MOST WONDERFUL THINGS HAVE HAPPENED
Chapter 11 – FOR ONCE I WAS THE HERO
Chapter 12 – IT WAS DREADFUL IN THE FOREST
Chapter 13 – A SIGHT I SHALL NEVER FORGET
Chapter 14 – THOSE WERE THE REAL CONQUESTS
Chapter 15 – OUR EYES HAVE SEEN GREAT WONDERS
Chapter 16 – A PROCESSION! A PROCESSION!