" 'How can you tell me what you know is false?' I cried. 'Your very voice changes as you speak. When have I ever had a secret from you? I shall enter that cottage, and I shall probe the matter to the bottom.'
" 'No, no, Jack, for God's sake!' she gasped in uncontrollable emotion. Then, as I approached the door, she seized my sleeve and pulled me back with convulsive strength.
" 'I implore you not to do this, Jack,' she cried. 'I swear that I will tell you everything some day, but nothing but misery can come of it if you enter that cottage.' Then, as I tried to shake her off, she clung to me in a frenzy of entreaty.
" 'Trust me, Jack!' she cried. 'Trust me only this once. You will never have cause to regret it. You know that I would not have a secret from you if it were not for your own sake. Our whole lives are at stake in this. If you come home with me all will be well. If you force your way into that cottage all is over between us.'
"There was such earnestness, such despair, in her manner that her words arrested me, and I stood irresolute before the door.
" 'I will trust you on one condition, and on one condition only,' said I at last. 'It is that this mystery comes to an end from now. You are at liberty to preserve your secret, but you must promise me that there shall be no more nightly visits, no more doings which are kept from my knowledge. I am willing to forget those which are past if you will promise that there shall be no more in the future.'
" 'I was sure that you would trust me,' she cried with a great sigh of relief. 'It shall be just as you wish. Come away — oh, come away up to the house.'
"Still pulling at my sleeve, she led me away from the cottage. As we went I glanced back, and there was that yellow livid face watching us out of the upper window. What link could there be between that creature and my wife? Or how could the coarse, rough woman whom I had seen the day before be connected with her? It was a strange puzzle, and yet I knew that my mind could never know ease again until I had solved it.
"For two days after this I stayed at home, and my wife appeared to abide loyally by our engagement, for, as far as I know, she never stirred out of the house. On the third day however, I had ample evidence that her solemn promise was not enough to hold her back from this secret influence which drew her away from her husband and her duty.
"I had gone into town on that day, but I returned by the 2:40 instead of the 3:36, which is my usual train. As I entered the house the maid ran into the hall with a startled face.
" 'Where is your mistress?' I asked.
" 'I think that she has gone out for a walk,' she answered.
"My mind was instantly filled with suspicion. I rushed upstairs to make sure that she was not in the house. As I did so I happened to glance out of one of the upper windows and saw the maid with whom I had just been speaking running across the field in the direction of the cottage. Then of course I saw exactly what it all meant. My wife had gone over there and had asked the servant to call her if I should return. Tingling with anger, I rushed down and hurried across, determined to end the matter once and forever. I saw my wife and the maid hurrying back along the lane, but I did not stop to speak with them. In the cottage lay the secret which was casting a shadow over my life. I vowed that, come what might, it should be a secret no longer. I did not even knock when I reached it, but turned the handle and rushed into the passage.
"It was all still and quiet upon the ground floor. In the kitchen a kettle was singing on the fire, and a large black cat lay coiled up in the basket; but there was no sign of the woman whom I had seen before. I ran into the other room, but it was equally deserted. Then I rushed up the stairs only to find two other rooms empty and deserted at the top. There was no one at all in the whole house. The furniture and pictures were of the most common and vulgar description, save in the one chamber at the window of which I had seen the strange face. That was comfortable and elegant, and all my suspicions rose into a fierce, bitter flame when I saw that on the mantelpiece stood a copy of a full-length photograph of my wife, which had been taken at my request only three months ago.
"I stayed long enough to make certain that the house was absolutely empty. Then I left it, feeling a weight at my heart such as I had never had before. My wife came out into the hall as I entered my house; but I was too hurt and angry to speak with her, and, pushing past her, I made my way into my study. She followed me, however, before I could close the door.
" 'I am sorry that I broke my promise, Jack,' said she, 'but if you knew all the circumstances I am sure that you would forgive me.'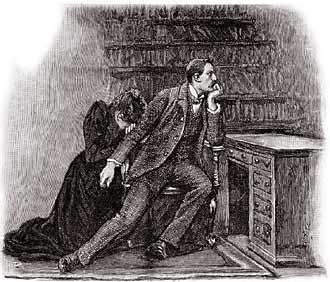 " 'Tell me everything, then,' said I.
" 'I cannot, Jack, I cannot,' she cried.
" 'Until you tell me who it is that has been living in that cottage, and who it is to whom you have given that photograph, there can never be any confidence between us,' said I, and breaking away from her I left the house. That was yesterday, Mr. Holmes, and I have not seen her since, nor do I know anything more about this strange business. It is the first shadow that has come between us, and it has so shaken me that I do not know what I should do for the best. Suddenly this morning it occurred to me that you were the man to advise me, so I have hurried to you now, and I place myself unreservedly in your hands. If there is any point which I have not made clear, pray question me about it. But, above all, tell me quickly what I am to do. for this misery is more than I can bear."
Holmes and I had listened with the utmost interest to this extraordinary statement, which had been delivered in the jerky, broken fashion of a man who is under the influence of extreme emotion. My companion sat silent now for some time, with his chin upon his hand, lost in thought.
"Tell me," said he at last, "could you swear that this was a man's face which you saw at the window?"
"Each time that I saw it I was some distance away from it so that it is impossible for me to say."
"You appear, however, to have been disagreeably impressed by it."
"It seemed to be of an unusual colour and to have a strange rigidity about the features. When I approached it vanished with a jerk."
"How long is it since your wife asked you for a hundred pounds?"
"Nearly two months."
"Have you ever seen a photograph of her first husband?"
"No, there was a great fire at Atlanta very shortly after his death, and all her papers were destroyed."
"And yet she had a certificate of death. You say that you saw it."
"Yes, she got a duplicate after the fire."
"Did you ever meet anyone who knew her in America?"
"No."
"Did she ever talk of revisiting the place?"
"No."
"Or get letters from it?"
"No."
"Thank you. I should like to think over the matter a little now. If the cottage is now permanently deserted we may have some difficulty. If, on the other hand, as I fancy is more likely the inmates were warned of your coming and left before you entered yesterday, then they may be back now, and we should clear it all up easily. Let me advise you, then, to return to Norbury and to examine the windows of the cottage again. If you have reason to believe that it is inhabited, do not force your way in, but send a wire to my friend and me. We shall be with you within an hour of receiving it, and we shall then very soon get to the bottom of the business."
"And if it is still empty?"
"In that case I shall come out to-morrow and talk it over with you. Good-bye, and, above all, do not fret until you know that you really have a cause for it."
"I am afraid that this is a bad business, Watson," said my companion as he returned after accompanying Mr. Grant Munro to the door. "What do you make of it?"
"It had an ugly sound," I answered.
"Yes. There's blackmail in it, or I am much mistaken."
"And who is the blackmailer?"
"Well, it must be the creature who lives in the only comfortable room in the place and has her photograph above his fireplace. Upon my word, Watson, there is something very attractive about that livid face at the window, and I would not have missed the case for worlds."
"You have a theory?"
"Yes, a provisional one. But I shall be surprised if it does not turn out to be correct. This woman's first husband is in that cottage."
"Why do you think so?"