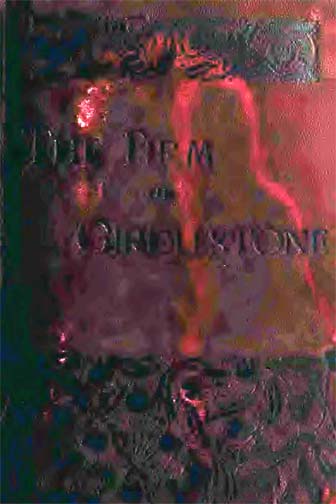 It was a proud day for the ex-medical student when he first entered the counting-house of the African firm and realized that he was one of the governing powers in that busy establishment. Tom Dimsdale's mind was an intensely practical one, and although he had found the study of science an irksome matter, he was able to throw himself into business with uncommon energy and devotion. The clerks soon found that the sunburnt, athletic-looking young man intended to be anything but a sleeping partner, and both they and old Gilray respected him accordingly.
The latter had at first been inclined to resent the new arrangement as far as his gentle down-trodden nature could resent anything. Hitherto he had been the monarch of the counting-house in the absence of the Girdlestones, but now a higher desk had been erected in a more central portion of the room, and this was for the accommodation of the new comer. Gilray, after his thirty years of service, felt this usurpation of his rights very keenly; but there was such a simple kindness about the invader, and he was so grateful for any assistance in his new duties, that the old clerk's resentment soon melted away.
A little incident occurred which strengthened this kindly feeling. It chanced that some few days after Tom's first appearance in the office several of the clerks, who had not yet quite gauged what manner of man this young gentleman might be, took advantage of the absence of the Girdlestones to take a rise out of the manager. One of them, a great rawboned Scotchman, named McCalister, after one or two minor exhibitions of wit concluded by dropping a heavy ruler over the partition of the old man's desk in such a way that it crashed down upon his head as he sat stooping over his writing. Tom, who had been watching the proceedings with a baleful eye, sprang off his stool and made across the office at the offender. McCalister seemed inclined for a moment to brazen it out, but there was a dangerous sling about Tom's shoulders and a flush of honest indignation upon his face. "I didn't mean to hurt him," said the Scotchman. "Don't hit him, sir!" cried the little manager. "Beg his pardon," said Tom between his teeth. McCalister stammered out some lame apology, and the matter was ended. It revealed the new partner, however, in an entirely novel light to the inmates of the counting-house. That under such circumstances a complaint should be carried to the senior was only natural, but that the junior should actually take the matter into his own hands and execute lynch law then and there was altogether a new phenomenon. From that day Tom acquired a great ascendancy in the office, and Gilray became his devoted slave. This friendship with the old clerk proved to be very useful, for by means of his shrewd hints and patient teaching the new comer gained a grasp of the business which he could not have attained by any other method.
Girdlestone called him into the office one day and congratulated him upon the progress which he was making. "My dear young man," he said to him in his patriarchal way, "I am delighted to hear of the way in which you identify yourself with the interests of the firm. If at first you find work allotted to you which may appear to you to be rather menial, you must understand that that is simply due to our desire that you should master the whole business from its very foundations."
"There is nothing I desire better," said Tom.
"In addition to the routine of office work, and the superintendence of the clerks, I should wish you to have a thorough grasp of all the details of the shipping, and of the loading and unloading of our vessels, as well as of the storage of goods when landed. When any of our ships are in, I should wish you to go down to the docks and to overlook everything which is done."
Tom bowed and congratulated himself inwardly upon these new duties, which promised to be interesting.
"As you grow older," said the senior partner, "you will find it of inestimable value that you have had practical experience of what your subordinates have to do. My whole life has taught me that. When you are in doubt upon any subject you can ask Ezra for assistance and advice. He is a young man whom you might well take as an example, for he has great business capacity. When he has gone to Africa you can come to me if there is anything which you do not understand." John Girdlestone appeared to be so kindly and benevolent during this and other interviews, that Tom's heart warmed towards him, and he came to the conclusion that his father had judged the old merchant harshly. More than once, so impressed was he by his kindness, that he was on the point of disclosing to him his engagement to his ward, but on each occasion there arose within him a lively recollection of Kate's frightened face when he had suggested such a course, and he felt that without her consent he had no right to divulge the secret.
If the elder Girdlestone improved upon acquaintance it was exactly the reverse with his son Ezra. The dislike with which Tom had originally regarded him deepened as he came in closer contact, and appeared to be reciprocated by the other, so that they held but little intercourse together. Ezra had taken into his own charge all the financial part of the concern, and guarded it the more jealously when he realized that the new partner was so much less simple than he had expected. Thus Tom had no opportunity of ascertaining for himself how the affairs of the firm stood, but believed implicitly, as did Gilray, that every outlay was bringing in a large and remunerative return. Very much astonished would both of them have been had they realized that the working expenses were at present being paid entirely from their own capital until such time as the plot should ripen which was to restore the fortunes of the African company.