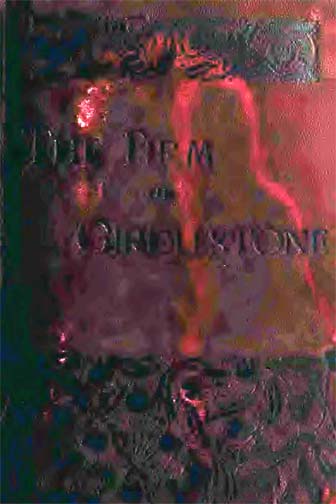 This conversation with Rebecca had suggested to Ezra that he might still have influence enough with his father's ward to induce her to come out of doors, and so put herself within the reach of Burt. He had proposed the plan to his father, who approved of it heartily. The only weak point in his scheme had been the difficulty which might arise in inducing the girl to venture out of the Priory on that tempestuous winter's night. There was evidently only one incentive strong enough to bring it about, and that was the hope of escape. By harping skilfully upon this string they might lure her into the trap. Ezra and his father composed the letter together, and the former handed it to Mrs. Jorrocks, with a request that she should deliver it.
It chanced, however, that Rebecca, keenly alive to any attempt at communication between the young merchant and her mistress, saw the crone hobbling down the passage with the note in her hand.
"What's that, mother?" she asked.
"It's a letter for her," wheezed the old woman, nodding her tremulous head in the direction of Kate's room.
"I'll take it up," said Rebecca eagerly. "I am just going up there with her tea."
"Thank ye. Them stairs tries my rheumatiz something cruel."
The maid took the note and carried it upstairs. Instead of taking it straight to her mistress she slipped into her own room and read every word of it. It appeared to confirm her worst suspicions. Here was Ezra asking an interview with the woman whom he had assured her that he hated. It was true that the request was made in measured words and on a plausible pretext. No doubt that was merely to deceive any other eye which might rest upon it. There was an understanding between them, and this was an assignation. The girl walked swiftly up and down the room like a caged tigress, striking her head with her clenched hands in her anger and biting her lip until the blood came. It was some time before she could overcome her agitation sufficiently to deliver the note, and when she did so her mistress, as we have seen, noticed that her manner was nervous and wild. She little dreamed of the struggle which was going on in the dark-eyed girl's mind against the impulse which urged her to seize her imagined rival by the white throat and choke the life out of her.
"It's eight o'clock now," Ezra was saying downstairs. "I wonder whether she will come?"
"She is sure to come," his father said briefly.
"Suppose she didn't?"
"In that case we should find other means to bring her out. We have not gone so far, to break down over a trifle at the last moment."
"I must have something to drink," Ezra said, after a pause, helping himself from the bottle. "I feel as cold as ice and as nervous as a cat. I can't understand how you look so unconcerned. If you were going to sign an invoice or audit an account or anything else in the way of business you could not take it more calmly. I wish the time would come. This waiting is terrible."
"Let us pass the time to advantage," said John Girdlestone; and drawing a little fat Bible from his pocket he began to read it aloud in a solemn and sonorous voice. The yellow light illuminated the old merchant's massive features as he stooped forwards towards the candle. His strongly marked nose and his hollow cheeks gave him a vulture-like aspect, which was increased by the effect of his deep-set glittering eyes.