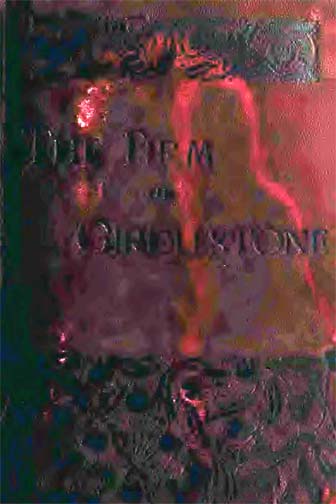 Great was the excitement of the worthy couple at Phillimore Gardens when Kate Harston was brought back to them. Good Mrs. Dimsdale pressed her to her ample bosom and kissed her, and scolded her, and wept over her, while the doctor was so moved that it was only by assuming an expression of portentous severity and by bellowing and stamping about that he was able to keep himself in decent control.
"And you really thought we had forgotten you because we were insane enough to stop writing at that villain's request?" he said, patting Kate's pale cheeks tenderly and kissing her.
"I was very foolish," she said, blushing prettily and rearranging her hair, which had been somewhat tumbled by her numerous caresses.
"Oh, that scoundrel—that pair of scoundrels!" roared the doctor, shaking his fist and dancing about on the hearth-rug. "Pray God they may catch 'em before the trial comes off!"
The good physician's prayer was not answered in this case, for Burt was the only criminal who appeared in the dock. Our friends all went down to the Winchester Assizes to give evidence, and the navvy was duly convicted of the death of Rebecca Taylforth and condemned to death. He was executed some three weeks afterwards, dying as he had lived, stolid and unrepenting.
There is a little unpretending church not far from Phillimore Gardens, in which a little unpretending clergyman preaches every Sunday out of a very shabby pulpit. It lies in Castle Lane, which is a narrow by-way, and the great crowd of church-goers ebbs and flows within a hundred yards of it, but none know of its existence, for it has never risen to the dignity of a spire, and the bell is so very diminutive that the average muffin man produces quite as much noise. Hence, with the exception of some few families who have chanced to find their way there, and have been so pleased with their spiritual welcome that they have returned, there is a poor and fluctuating congregation. So scanty is it that the struggling incumbent could very well weep when he has spent the week in polishing and strengthening his sermon, and then finds upon the Sunday how very scanty is the audience to whom it is to be addressed.