His eyes gleamed behind his great spectacles. It was very clear that no pains would be spared by Mr. Nathan Garrideb in finding a namesake.
"I merely called to make your acquaintance, and there is no reason why I should interrupt your studies," said Holmes. "I prefer to establish personal touch with those with whom I do business. There are few questions I need ask, for I have your very clear narrative in my pocket, and I filled up the blanks when this American gentleman called. I understand that up to this week you were unaware of his existence."
"That is so. He called last Tuesday."
"Did he tell you of our interview to-day?"
"Yes, he came straight back to me. He had been very angry."
"Why should he be angry?"
"He seemed to think it was some reflection on his honour. But he was quite cheerful again when he returned."
"Did he suggest any course of action?"
"No, sir, he did not."
"Has he had, or asked for, any money from you?"
"No, sir, never!"
"You see no possible object he has in view?"
"None, except what he states."
"Did you tell him of our telephone appointment?"
"Yes, sir, I did."
Holmes was lost in thought. I could see that he was puzzled.
"Have you any articles of great value in your collection?"
"No, sir. I am not a rich man. It is a good collection, but not a very valuable one."
"You have no fear of burglars?"
"Not the least."
"How long have you been in these rooms?"
"Nearly five years."
Holmes's cross-examination was interrupted by an imperative knocking at the door. No sooner had our client unlatched it than the American lawyer burst excitedly into the room.
"Here you are!" he cried, waving a paper over his head. "I thought I should be in time to get you. Mr. Nathan Garrideb, my congratulations! You are a rich man, sir. Our business is happily finished and all is well. As to you, Mr. Holmes, we can only say we are sorry if we have given you any useless trouble."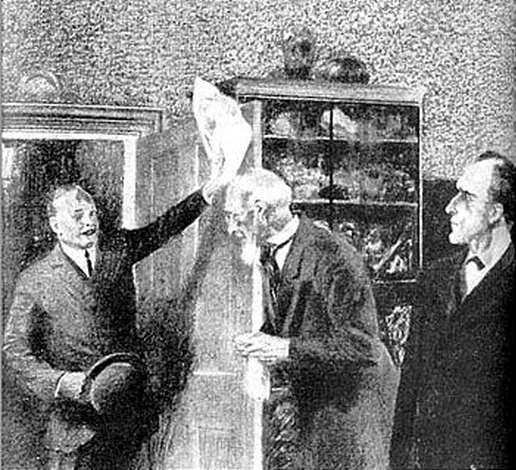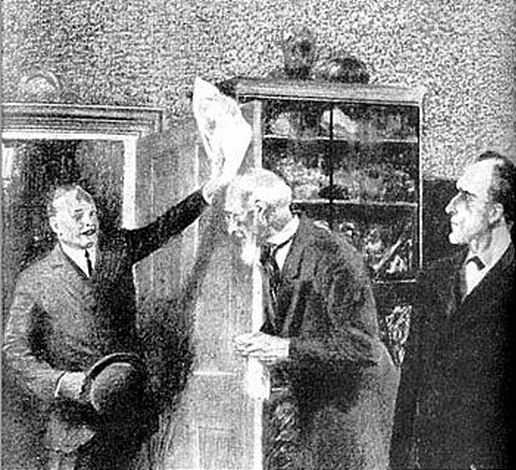 He handed over the paper to our client, who stood staring at a marked advertisement. Holmes and I leaned forward and read it over his shoulder. This is how it ran:
HOWARD GARRIDEB
CONSTRUCTOR OF AGRICULTURAL MACHINERY
Binders, reapers, steam and hand plows, drills, harrows, farmer's carts, buckboards, and all other appliances. Estimates for Artesian Wells.
Apply Grosvenor Buildings, Aston
"Glorious!" gasped our host. "That makes our third man."