I had no difficulty in finding the ex-servant and in learning all that she could tell me. She was a devoted creature, who had only left her mistress because she was sure that she was in good hands, and because her own approaching marriage made a separation inevitable in any case. Her mistress had, as she confessed with distress, shown some irritability of temper towards her during their stay in Baden, and had even questioned her once as if she had suspicions of her honesty, and this had made the parting easier than it would otherwise have been. Lady Frances had given her fifty pounds as a wedding-present. Like me, Marie viewed with deep distrust the stranger who had driven her mistress from Lausanne. With her own eyes she had seen him seize the lady's wrist with great violence on the public promenade by the lake. He was a fierce and terrible man. She believed that it was out of dread of him that Lady Frances had accepted the escort of the Shlessingers to London. She had never spoken to Marie about it, but many little signs had convinced the maid that her mistress lived in a state of continual nervous apprehension. So far she had got in her narrative, when suddenly she sprang from her chair and her face was convulsed with surprise and fear. "See!" she cried. "The miscreant follows still! There is the very man of whom I speak."
Through the open sitting-room window I saw a huge, swarthy man with a bristling black beard walking slowly down the centre of the street and staring eagerly at the numbers of the houses. It was clear that, like myself, he was on the track of the maid. Acting upon the impulse of the moment, I rushed out and accosted him.
"You are an Englishman," I said.
"What if I am?" he asked with a most villainous scowl.
"May I ask what your name is?"
"No, you may not," said he with decision.
The situation was awkward, but the most direct way is often the best.
"Where is the Lady Frances Carfax?" I asked.
He stared at me with amazement.
"What have you done with her? Why have you pursued her? I insist upon an answer!" said I.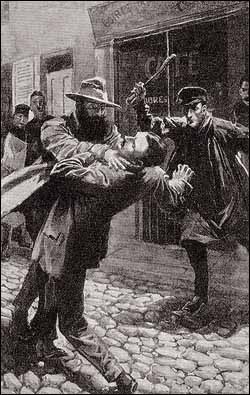 The fellow gave a below of anger and sprang upon me like a tiger. I have held my own in many a struggle, but the man had a grip of iron and the fury of a fiend. His hand was on my throat and my senses were nearly gone before an unshaven French ouvrier in a blue blouse darted out from a cabaret opposite, with a cudgel in his hand, and struck my assailant a sharp crack over the forearm, which made him leave go his hold. He stood for an instant fuming with rage and uncertain whether he should not renew his attack. Then, with a snarl of anger, he left me and entered the cottage from which I had just come. I turned to thank my preserver, who stood beside me in the roadway.
"Well, Watson," said he, "a very pretty hash you have made of it! I rather think you had better come back with me to London by the night express."
An hour afterwards, Sherlock Holmes, in his usual garb and style, was seated in my private room at the hotel. His explanation of his sudden and opportune appearance was simplicity itself, for, finding that he could get away from London, he determined to head me off at the next obvious point of my travels. In the disguise of a workingman he had sat in the cabaret waiting for my appearance.
"And a singularly consistent investigation you have made, my dear Watson," said he. "I cannot at the moment recall any possible blunder which you have omitted. The total effect of your proceeding has been to give the alarm everywhere and yet to discover nothing."
"Perhaps you would have done no better," I answered bitterly.
"There is no 'perhaps' about it. I HAVE done better. Here is the Hon. Philip Green, who is a fellow-lodger with you in this hotel, and we may find him the starting-point for a more successful investigation."
A card had come up on a salver, and it was followed by the same bearded ruffian who had attacked me in the street. He started when he saw me.
"What is this, Mr. Holmes?" he asked. "I had your note and I have come. But what has this man to do with the matter?"
"This is my old friend and associate, Dr. Watson, who is helping us in this affair."
The stranger held out a huge, sunburned hand, with a few words of apology.
"I hope I didn't harm you. When you accused me of hurting her I lost my grip of myself. Indeed, I'm not responsible in these days. My nerves are like live wires. But this situation is beyond me. What I want to know, in the first place, Mr. Holmes, is, how in the world you came to hear of my existence at all."
"I am in touch with Miss Dobney, Lady Frances's governess."
"Old Susan Dobney with the mob cap! I remember her well."
"And she remembers you. It was in the days before–before you found it better to go to South Africa."