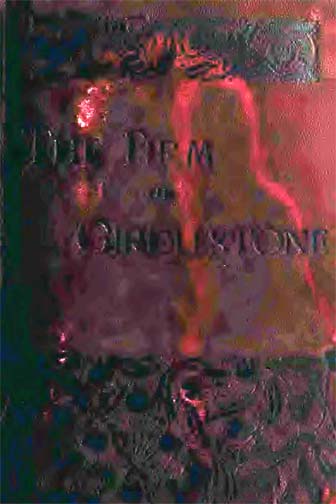 When Kate came to herself after the terrible incident which frustrated her attempt at escape, she found herself in bed in her own little room. By the light which shone in through the window she knew that it must be well on in the day. Her head was throbbing violently, and she was so weak that she could hardly raise herself in bed. When she looked round she found that Rebecca had brought a chair in from her room and was sitting by the fire. At the sound of her movement the maid glanced up and perceived that her mistress had recovered consciousness.
"Lor' bless me!" she cried, "you've given us a pretty fright. We thought you wasn't coming back to your senses no more. You've been a-lyin' there since the middle of the night, and now it's close on to twelve o'clock."
Kate lay silent for some little time, putting together all that had occurred. "Oh, Rebecca," she said at last, shivering at the recollection, "I have seen the most dreadful sight. Either I am going mad, or I have seen a ghost."
"We thought you were a ghost yourself," said the girl reproachfully. "What with the screechin' and you lying so white in the middle of the passage, it was enough to make any one's 'air turn grey. Mr. Girdlestone, he lifted you up, an' carried you back into your room. He was cut to the heart, the good gentleman, when he saw what you'd been after, a-tryin' to give him the slip."
"Oh, this dreadful house will kill me—it will kill me!" Kate moaned.
"I cannot stay in it any longer. What shall I do? Oh, Rebecca,
Rebecca, what shall I do?"
The fresh-coloured maid came across with a simper upon her pretty, vulgar face, and sat on the side of the bed. "What's the matter, then?" she asked. "What is it that you have seen?"
"I have seen—oh, Rebecca, it is too dreadful to talk of. I have seen that poor monk who was killed in the cellars. It was not fancy. I saw him as plainly as I see you now, with his tall thin figure, and long loose gown, and the brown cowl drawn over his face."
"God preserve us!" cried Rebecca nervously, glancing over her shoulder.
"It is enough to give one the creeps."
"I pray that I may never see such a sight again. Oh, Rebecca, if you have the heart of a woman, help me to get away from this place. They mean that I should never go from it alive. I have read it in my guardian's eyes. He longs for my death. Do, do tell me what I should do for the best."
"I'm surprised at you!" the maid said with dignity. "When Mr. Girdlestone and Mr. Ezra is so good to you, and provides you with a country-house and every convenience as 'eart could wish, all you can find to do is to go screamin' about at night, and then talk as if you was a-goin' to be murdered in the day. I really am surprised. There's Mr. Girdlestone a-callin.' He'd be shocked, poor gentleman, if he knew how you was abusin' of him." Rebecca's face assumed an expression of virtuous indignation as she swept out of the room, but her black eyes shone with the unholy light of cruelty and revenge.
Left to herself, Kate rose and dressed as well as her weakness would permit. Her nerves were so shaken that she started at the least sound, and she could hardly recognize the poor pale face which she saw in the glass as her own. She had scarcely finished her toilet before her guardian came up into her room.
"You are better, then?" he said.
"I am very ill," she answered gently.
"No wonder, after rushing about the corridors in that absurd fashion in the dead of the night. Rebecca tells me that you imagine you met with some apparition. You are crying. Are you so unhappy, then?"